Newsletter – October 2022
Welcome to the October 2022 newsletter.
Autumn has started here in the Loire Valley and summer certainly feels like a distant memory. Over here I've been travelling a lot for my own work purposes as well as commissioned work.
Over the summer I was in both Portugal and in Germany which was for a commission. Luckily the weather held out for each one. You may think that's simple with Portugal but the day I left it was caning it down with rain.
But then the big trip came. A visit to Vietnam which has been on hold since April 2020 due to that dreaded thing that stopped our lives for 2 years.
So let's get up to speed with trip reports and future workshop dates for those of you that are interested.
---
Recent trip report – Frankfurt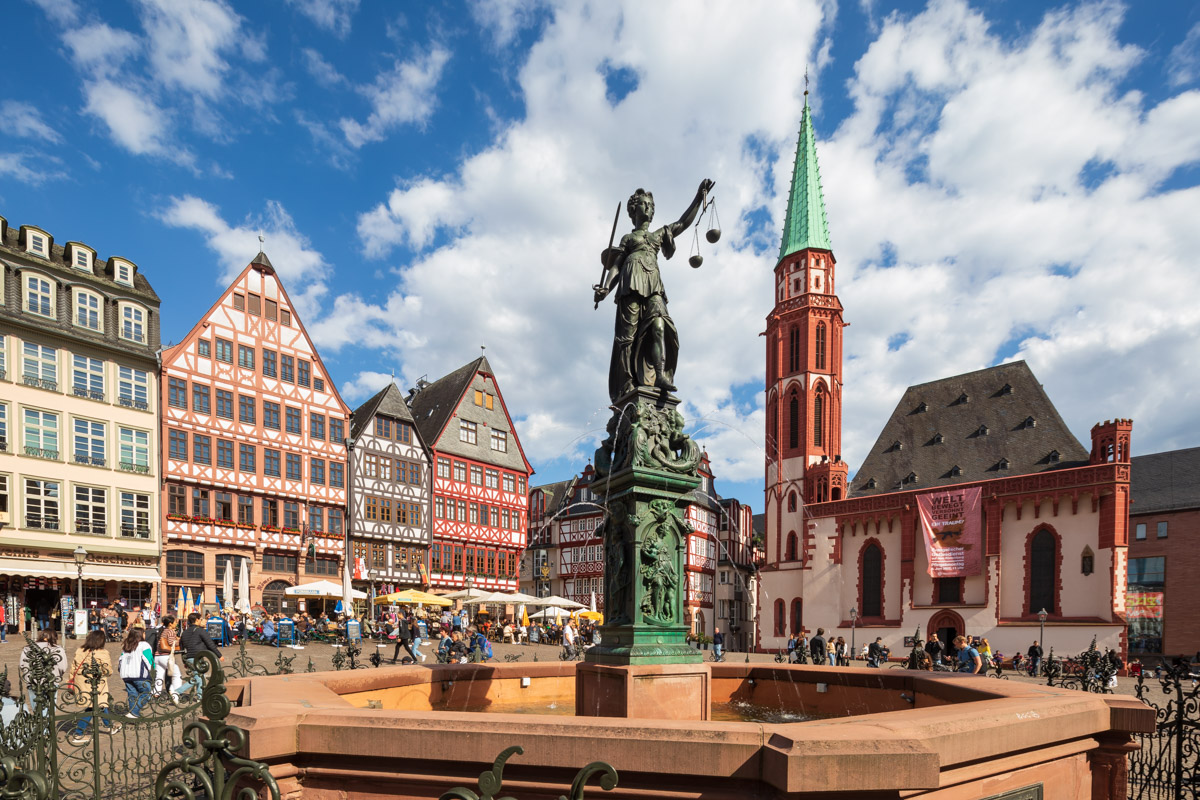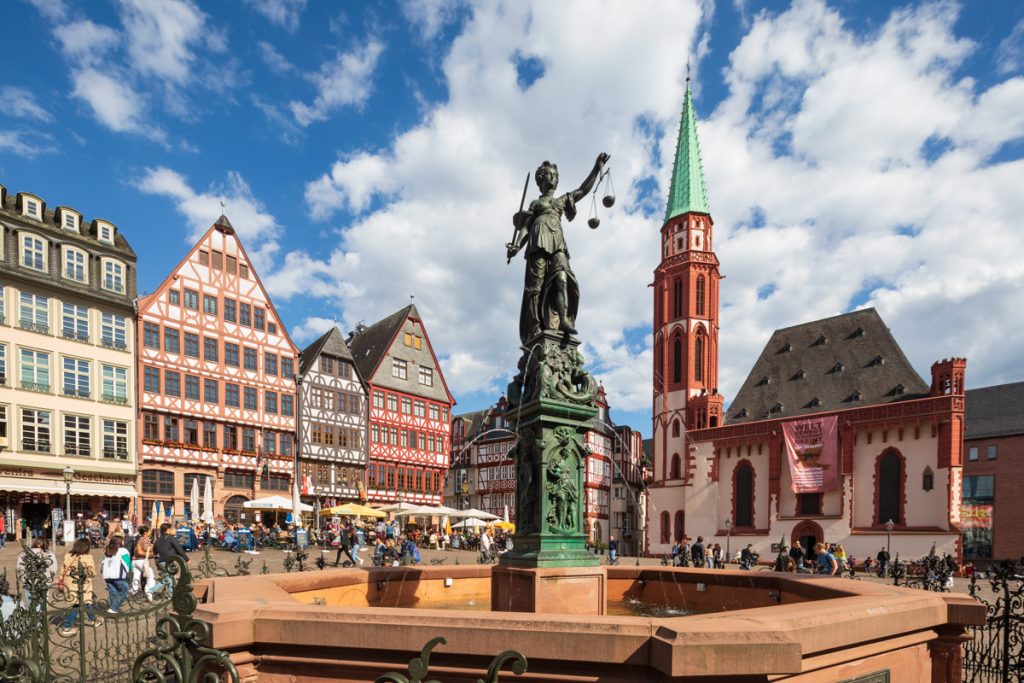 In late May I headed off to the city of Frankfurt. I've been aware that it had a great skyline for a number of years and that it's also, like a lot of other modern cities, still increasing in size in terms of when you look up.
I went to Frankfurt for two reasons. The first was a business conference where I need to see if I could pick up some new contacts for work and then secondly it seemed rude not to take in the aforementioned skyline to see what I could do with it.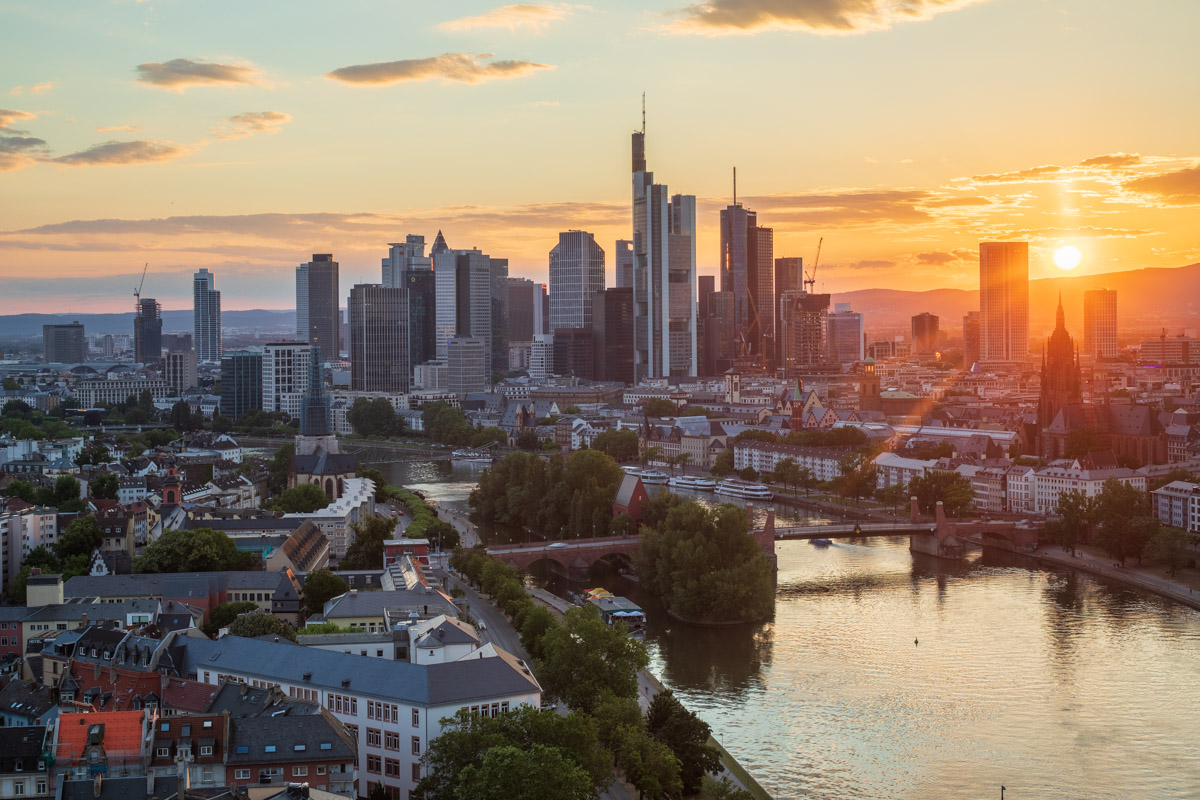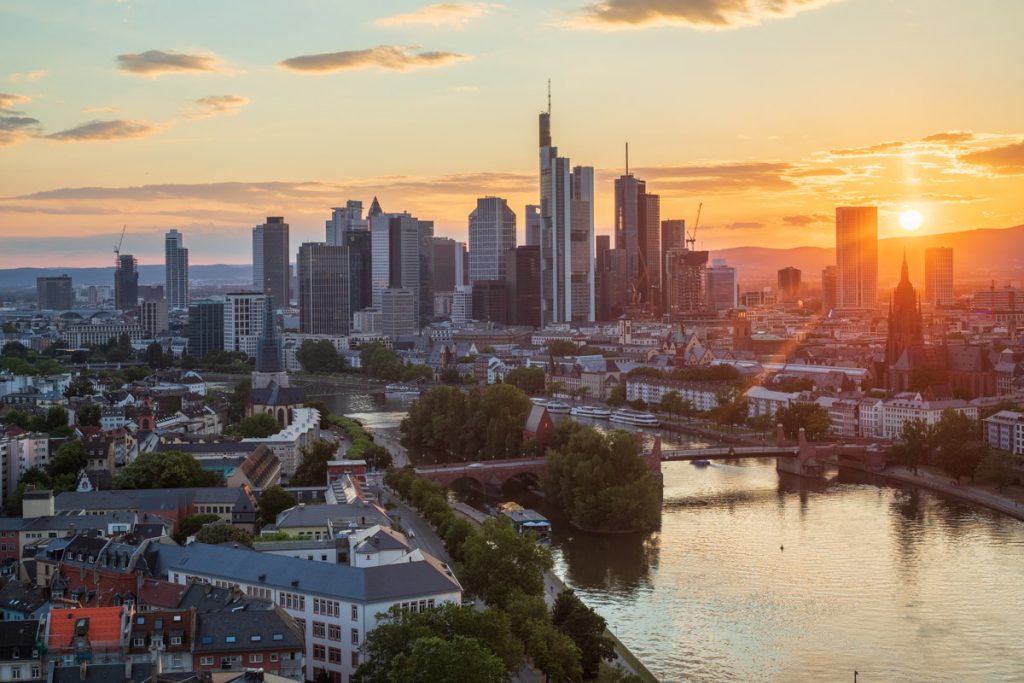 The old town and the cathedral are certainly worth a visit should you find yourself going to Frankfurt. The cathedral has a paid entry tower that you can go up and get some stupendous 360° across the cityscape. So definitely think about that if you go.
What I was a little shocked about was the culture that existed on the street near the railway station. I wouldn't normally say anything negative about places that I go to but the level of drug abuse that I saw going on was shocking to say the least.
The saving grace for me was once you got away from the station it seemed to melt away which made things that much more pleasant but you were still aware of it.
From my own headspace what I always have to think about is my personal safety and at times I have to say it didn't feel safe. So I'm glad that I was able to get what I did during my week here.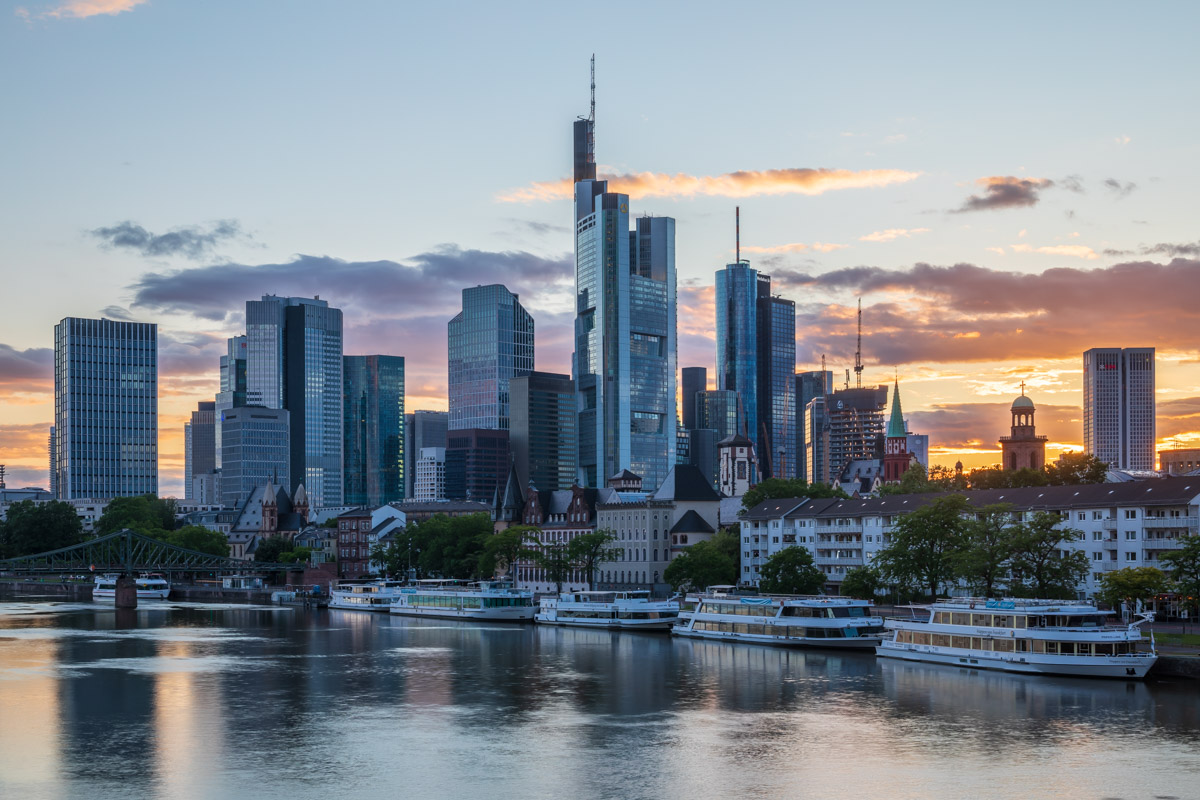 ---
Porto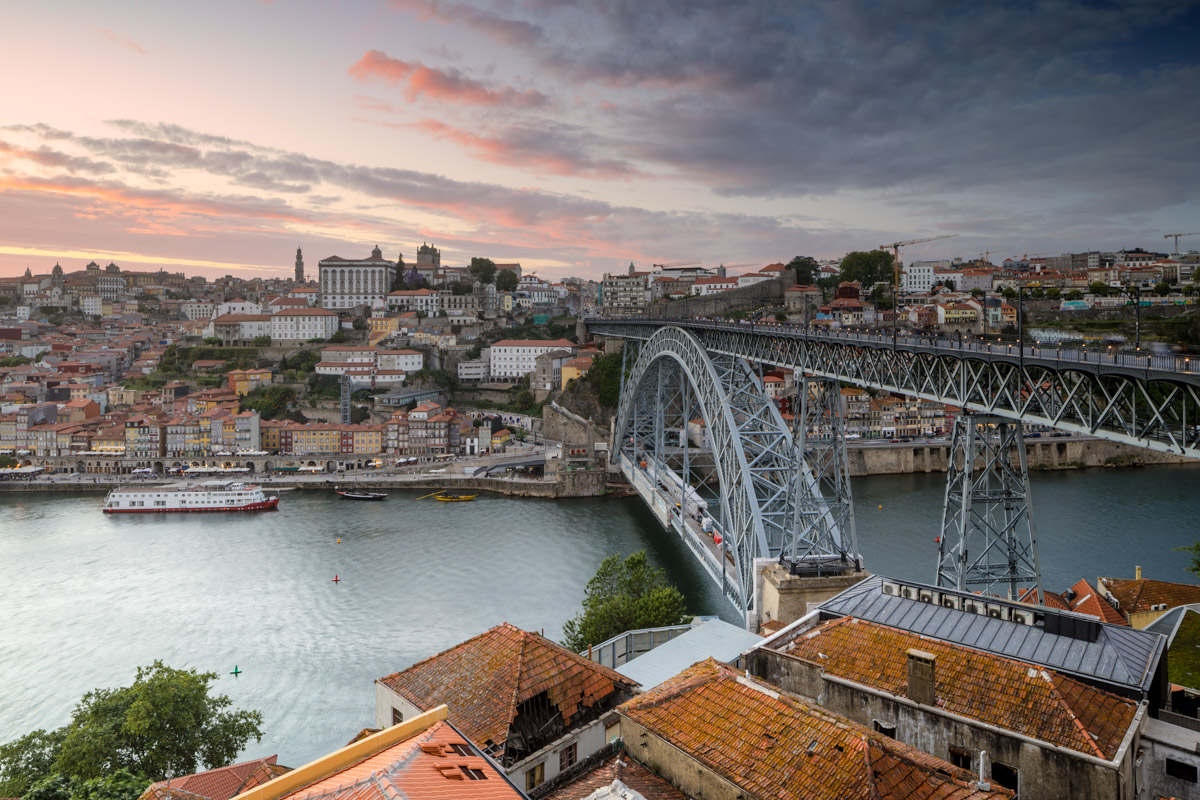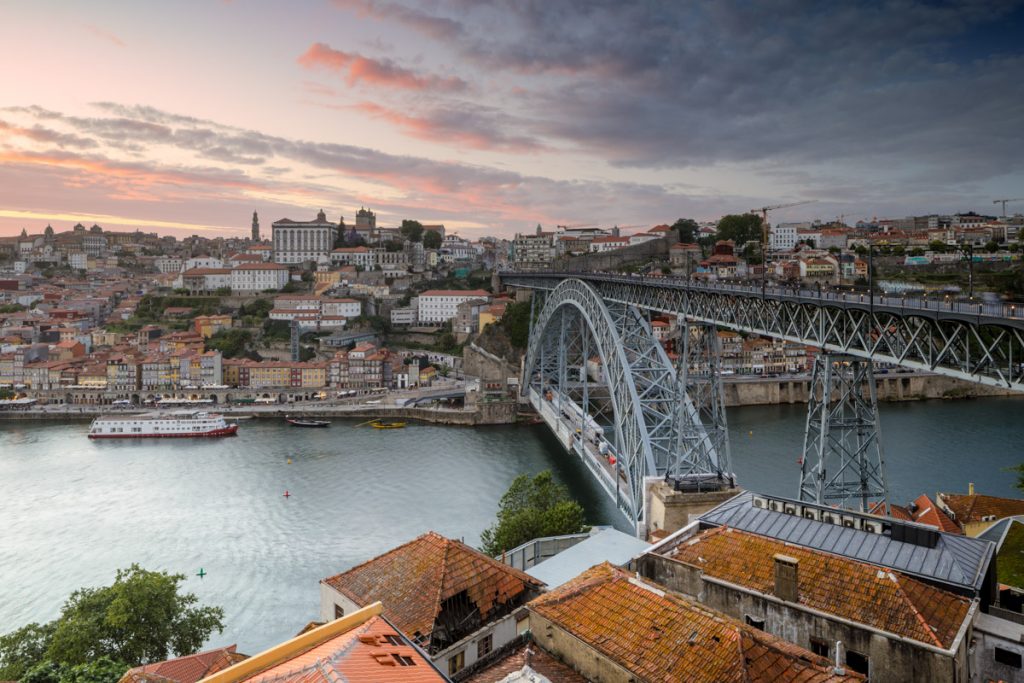 Another city that has long been on my list of places to go is Porto in northwest Portugal.
A number of years ago I had been to Lisbon and enjoyed the city but I hadn't ever gotten around to seeing Porto. So when a gap opened in my diary then I made a beeline there to capture it.
Whenever I go somewhere I always try and think what's the most days I'd really need here to capture it. With any cityscape, I'd advise not the typical 3-night weekend job but more 4 nights just in case of bad weather.
So with AirBNB booked and flights arranged I headed south to this small but perfectly formed city.
The iconic image that a lot of people search out here is the iconic Luis I iron bridge that straddles the Douro River. There are a few different viewpoints for it but the most famous is the one to the left when you're looking north.
It's worth wandering around and seeing if you can find buildings adorned with the famous azulejos tiles. There are a number of churches and residential buildings that you'll find with them to train your lens.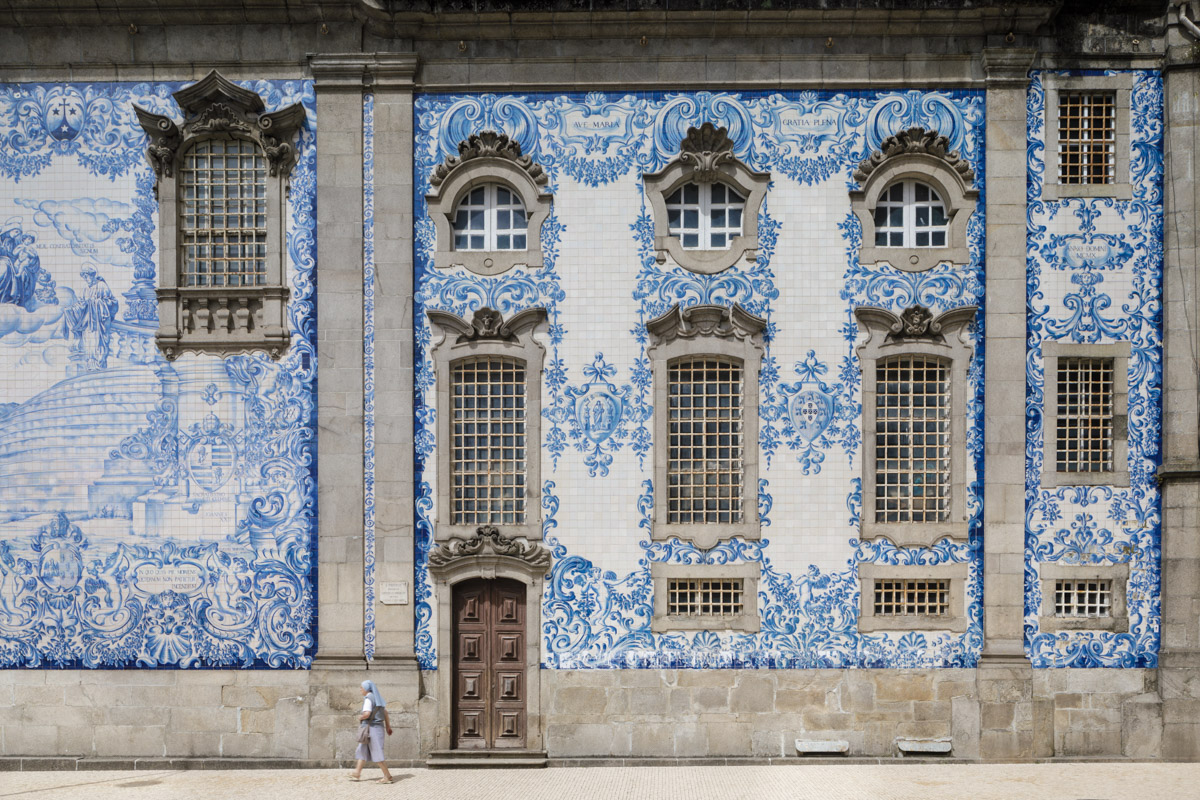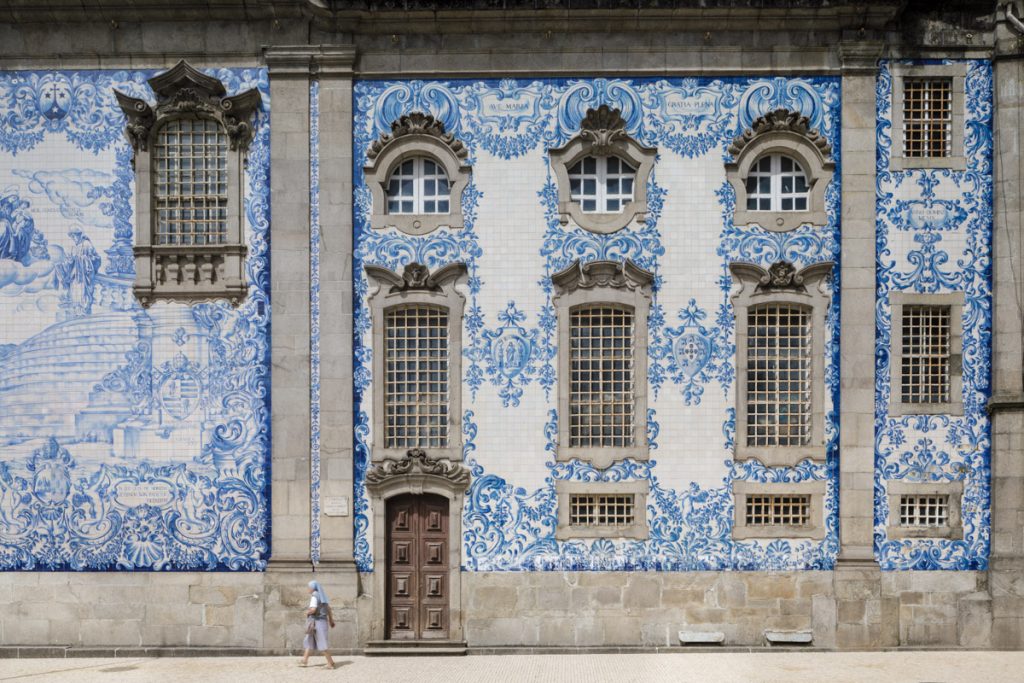 Away from tiles, there are a few views to be found across the city. But you certainly need a level of fitness as each side of the city is built on the side of a valley. You can of course take the bus or the excellent metro system but it's better to be walking.
But let's go back to the azulejos tiles though. If you pay a visit to the cathedral the cloister is adorned all over with these pastel blue tiles. As it's become a bit of an Instagram hotspot you do have to exercise some patience but it's certainly worth it.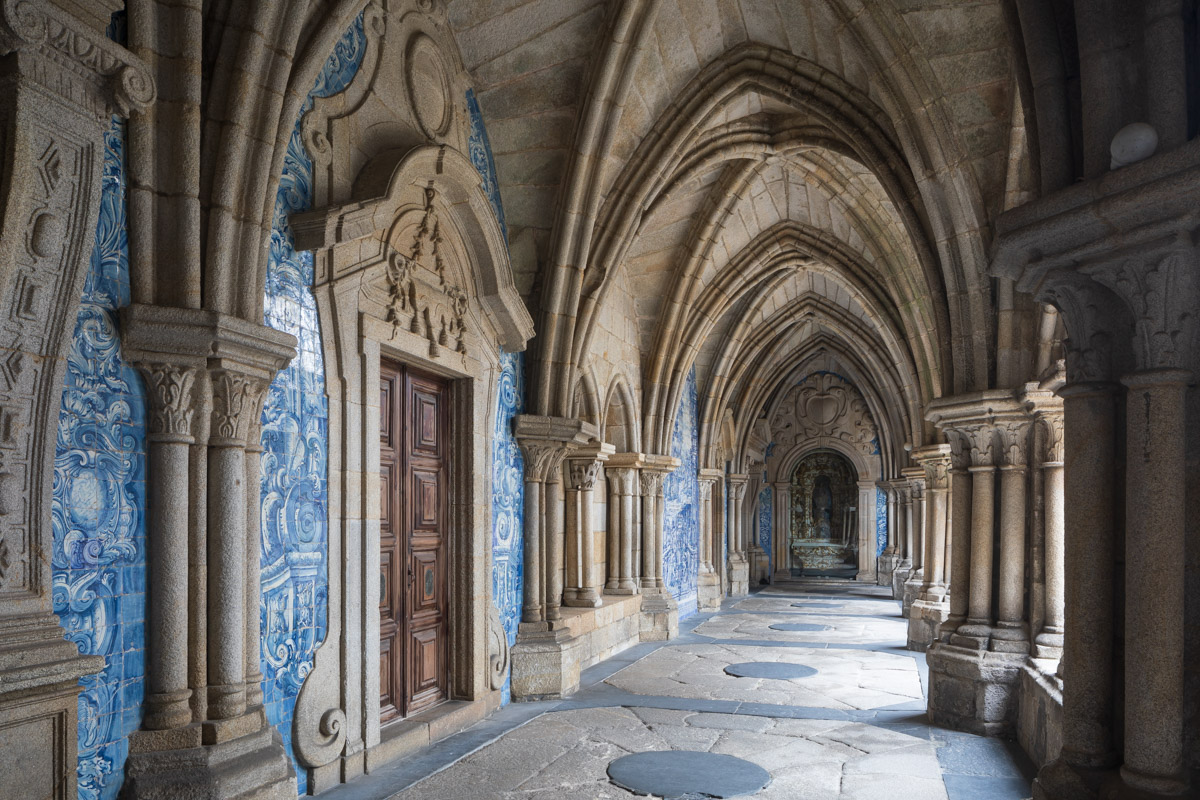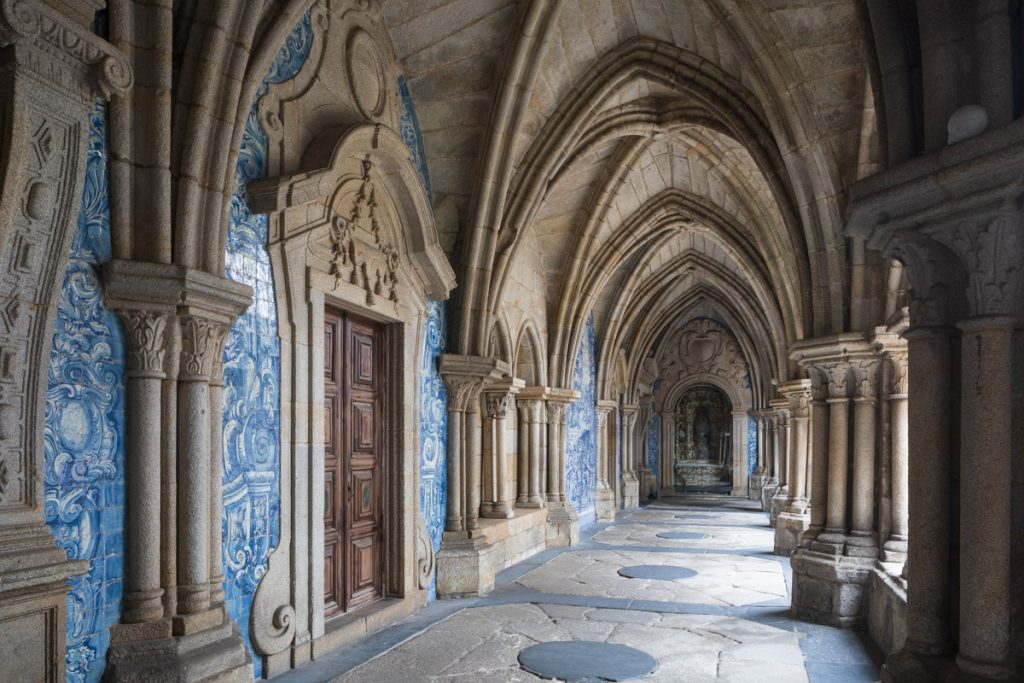 ---
Vietnam – From north to south
Back at the beginning of 2020, I had an airline ticket to go to Vietnam. A country that is close to my heart after spending an extended amount of time there in late 2019.
What I was hoping to do is explore more of the country but sadly COVID hit and the Vietnamese government closed the border until March this year.
So I had to patiently wait for over 2 years before I could use my airline voucher to go back to this beautiful country. But in the intervening time, I was able to start gathering more information on places to go. And believe me, Vietnam is a country that is FULL of things to do from north to south.
In total, I spent 5 weeks in Vietnam. Discovering and rediscovering different places. Spending time in Hanoi too which I had previously had an opportunity to do.
Despite the events of the past, Vietnam has definitely moved on as a country and investment is going in by the bucket load to the country. Even some tech industries are moving production there as they see it as more appealing than its near neighbour.
So why go in August/ September? Is it the best time of year to go?
Why did I go during August and September? In late August the rice terraces in the north around Mu Cang Chai and Sa Pa start turning yellow. So here in the west, we are used to seeing the trees turning golden colour but in Vietnam, the colour is at your feet.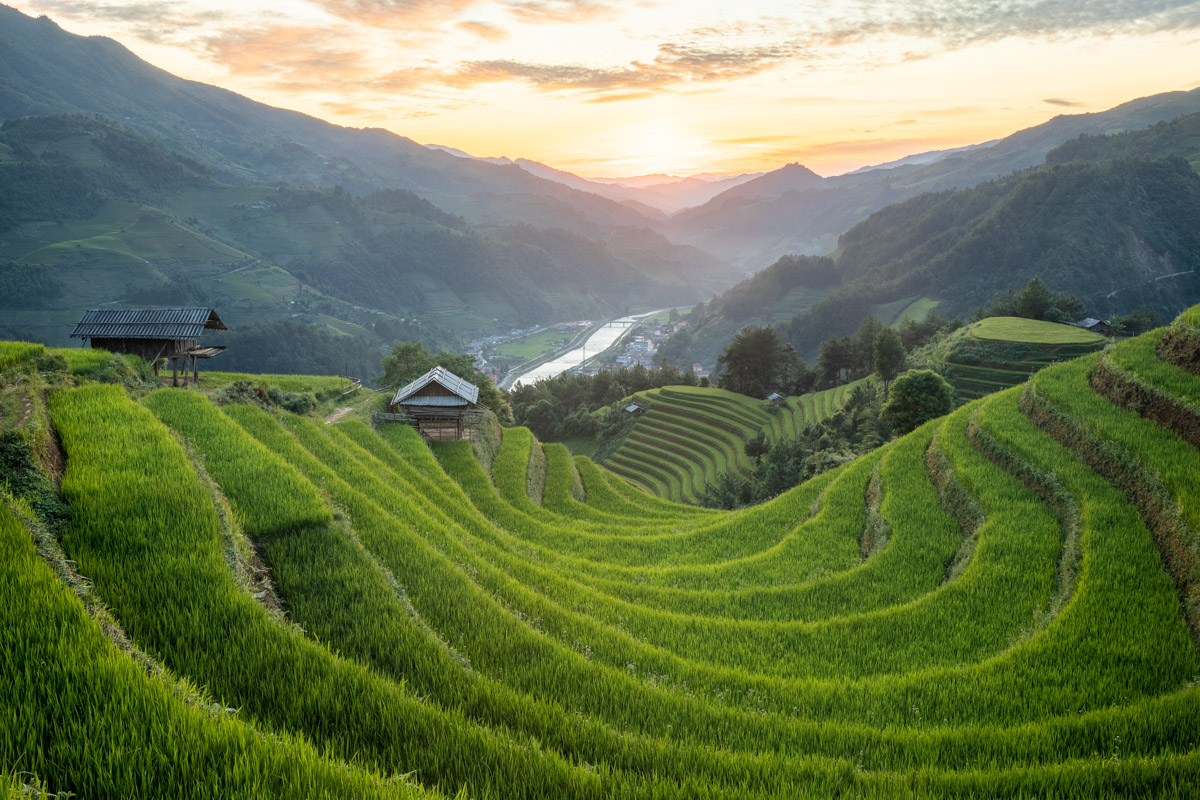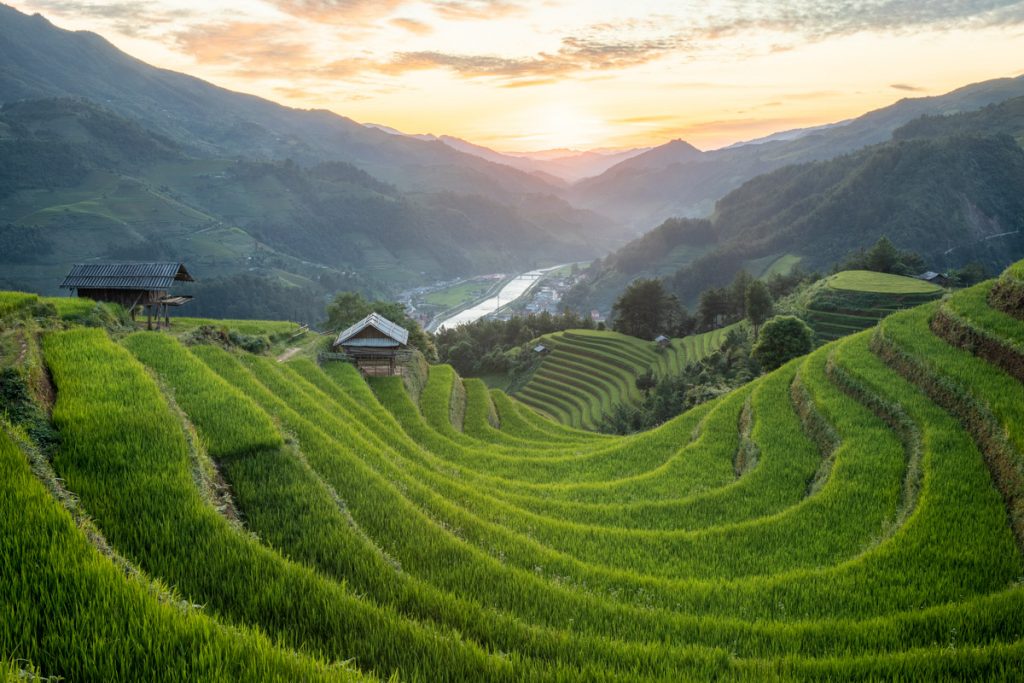 In 2019 I was taken to the rice terraces of Sa Pa but it's not here you need to concentrate your efforts but rather Mu Cang Chai to the south. Around here it's less touristic but far more beautiful and alluring.
With a deep river valley that winds its way through the rice terraces, you need to go up a little to really make the best of the views.
During a visit to a Hmong village, we interacted with a number of local people. There were a number of children around playing around with us and during my visit I captured an image that my guide just couldn't stop looking at. A young girl staring right into the camera.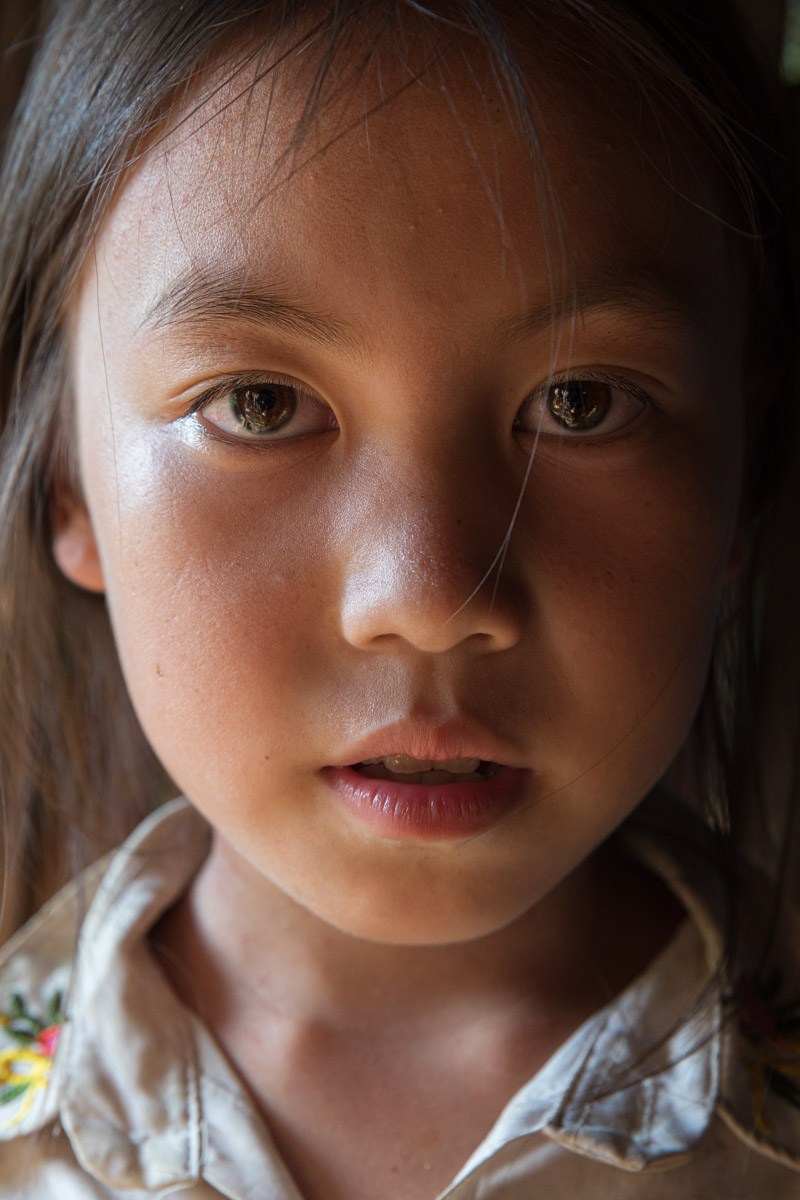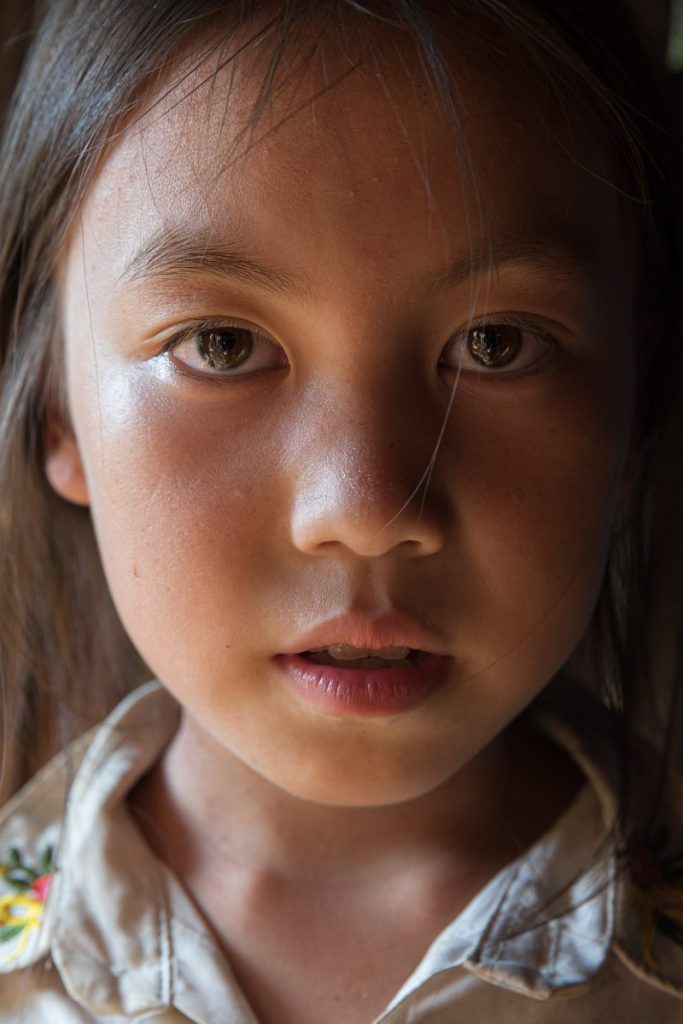 Certainly looking back at the image brings back memories of trying to find the right light to photograph her in. It wasn't an easy task given that we were working inside a very basic house. But the light streaming in from outside is what helped in the end.
Back around Hanoi, I was taken to various villages with varying degrees of success. The most fruitful in terms of cultural feel and photo opportunity was Hung Yen.
Within the village is one of the sole makers of traditional fish traps. Along with some helpers they weave together the traps by hand and sell them to buyers at the local market.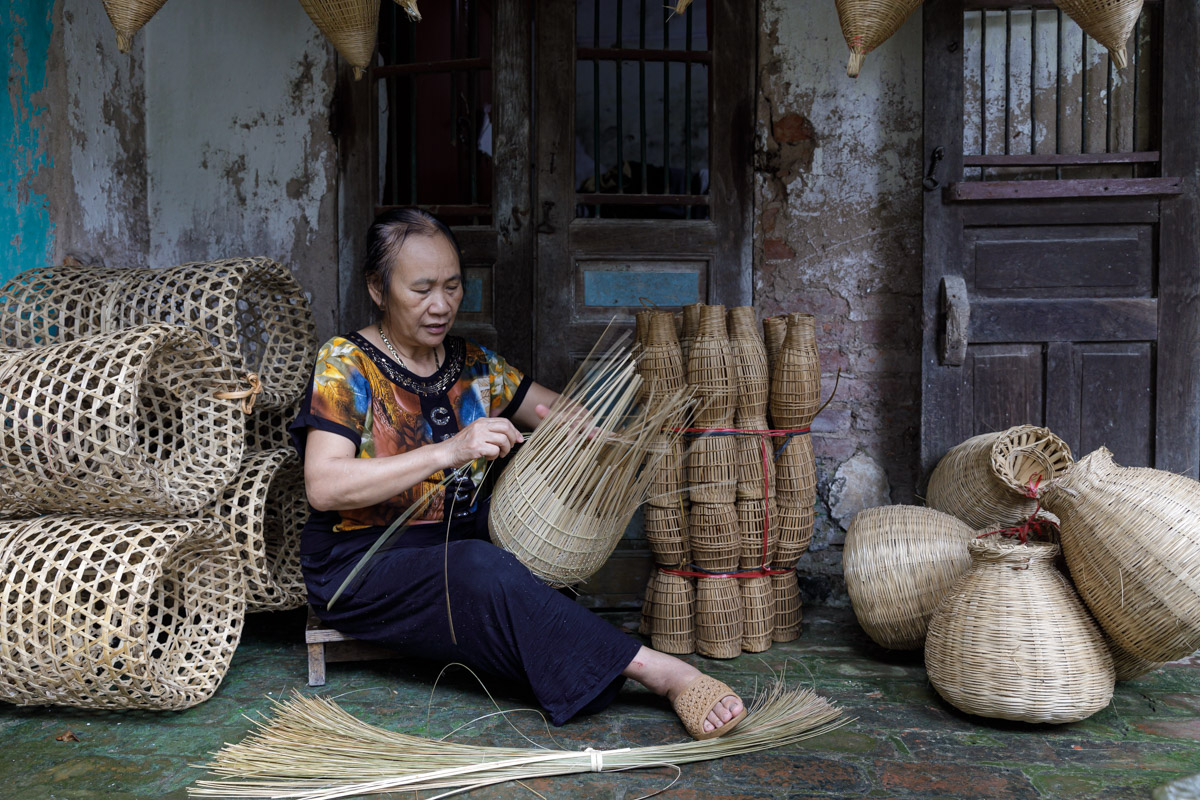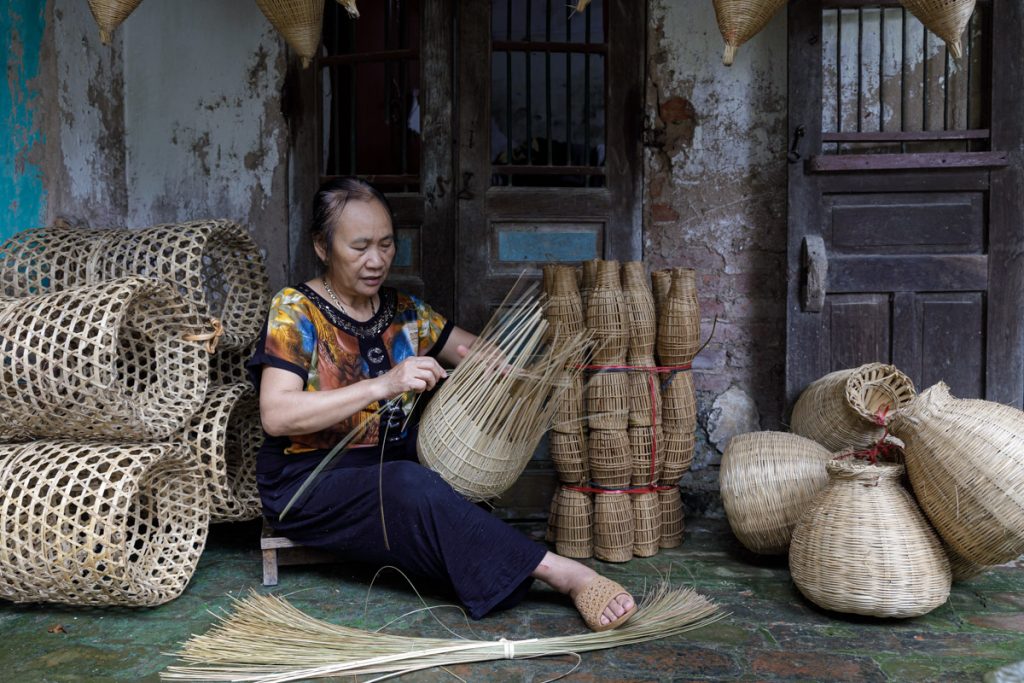 One of the other gems that photographers seek out is the incense village. It looks quite simple to photograph but is actually very weather dependent.
Once the incense sticks have been dipped they are taken outside to dry. When I arrived there was dry weather but a huge storm was looming overhead. It didn't take long for the havens to open up and the incense had to be quickly gathered up and put under shelter.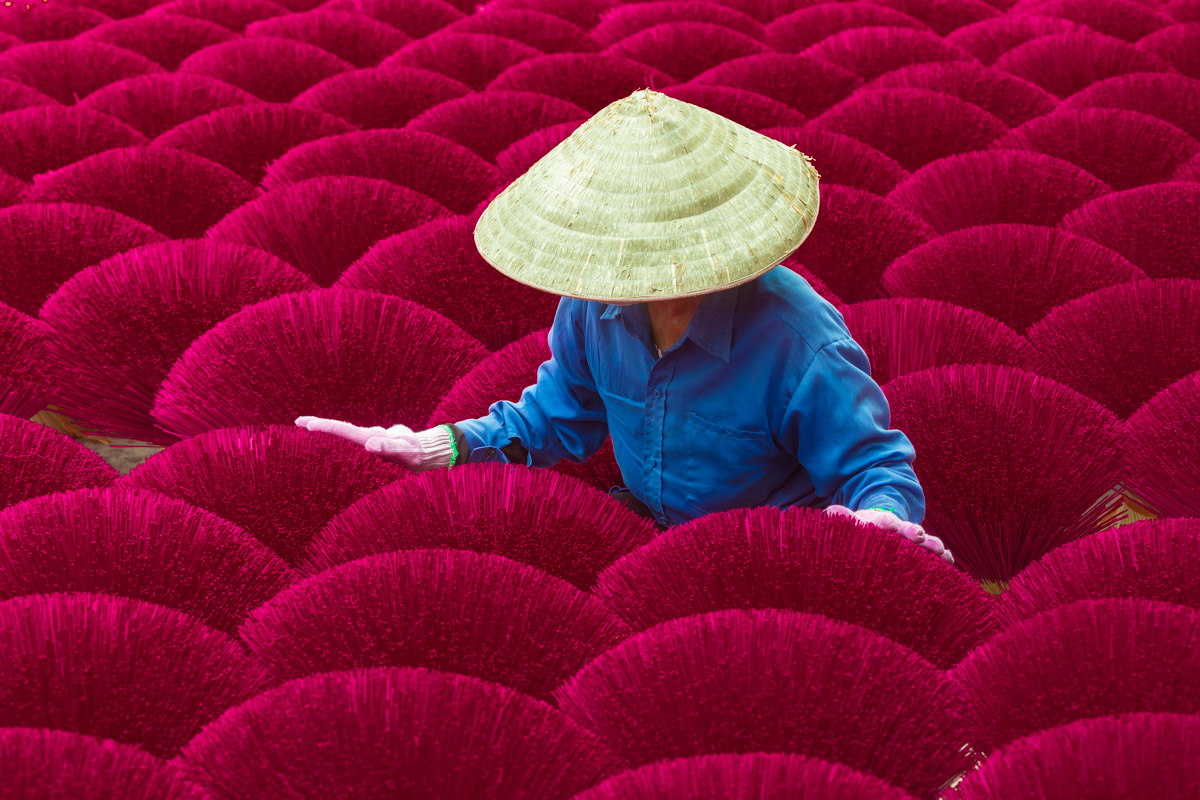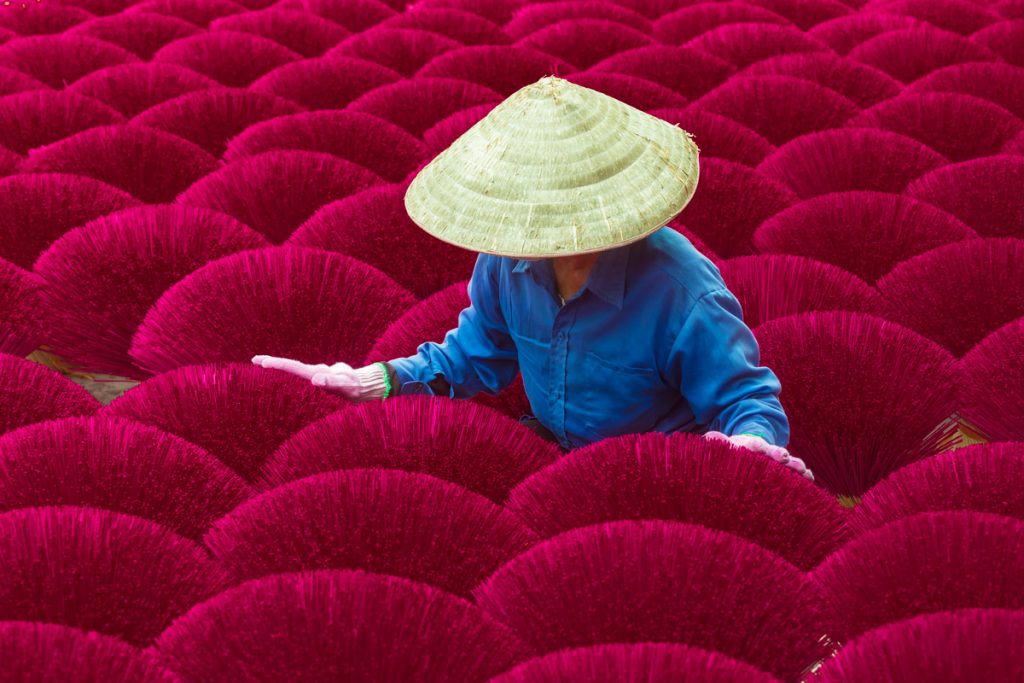 The old quarter of Hanoi is a street photographer's paradise. Small streets with people scurrying around on mopeds and street sellers either carrying their wares around or selling them on the pavement.
One of my afternoons was spent by the mosaic wall. A long near 6.5km wall sits by a hugely busy road with the constant traffic of not just motorbikes but cars and people too.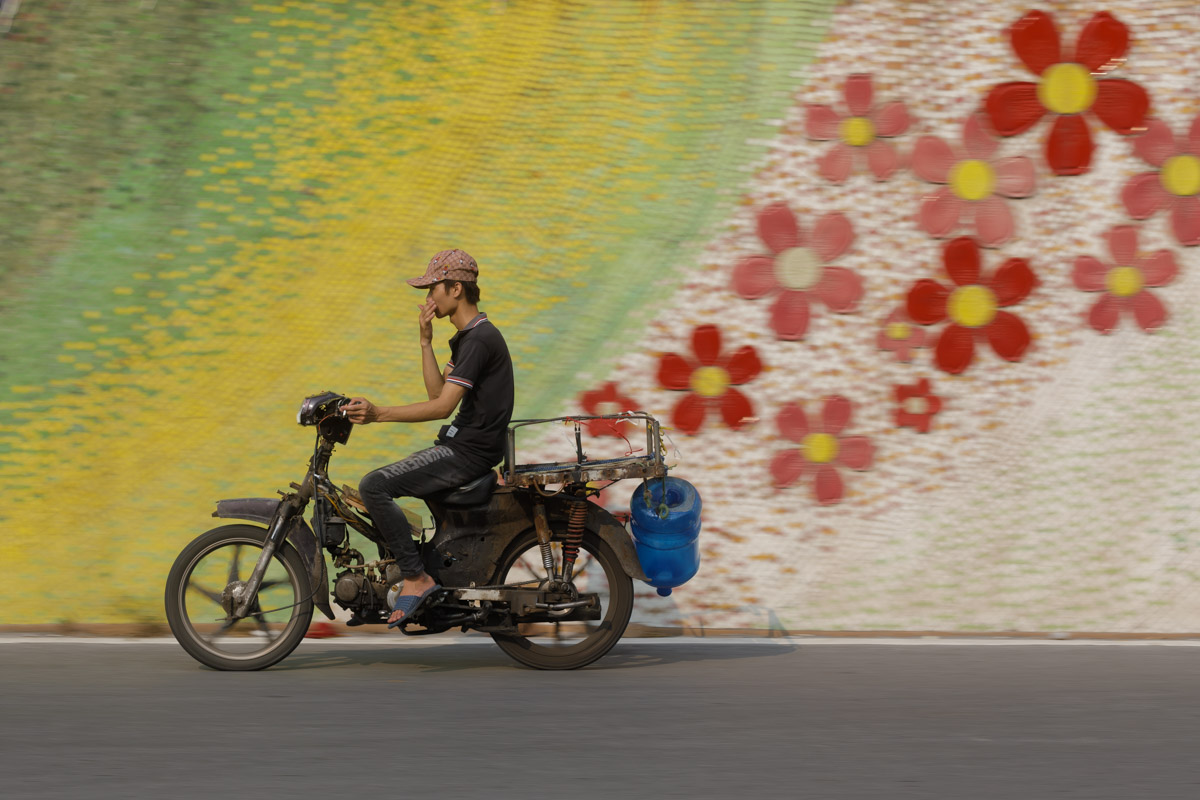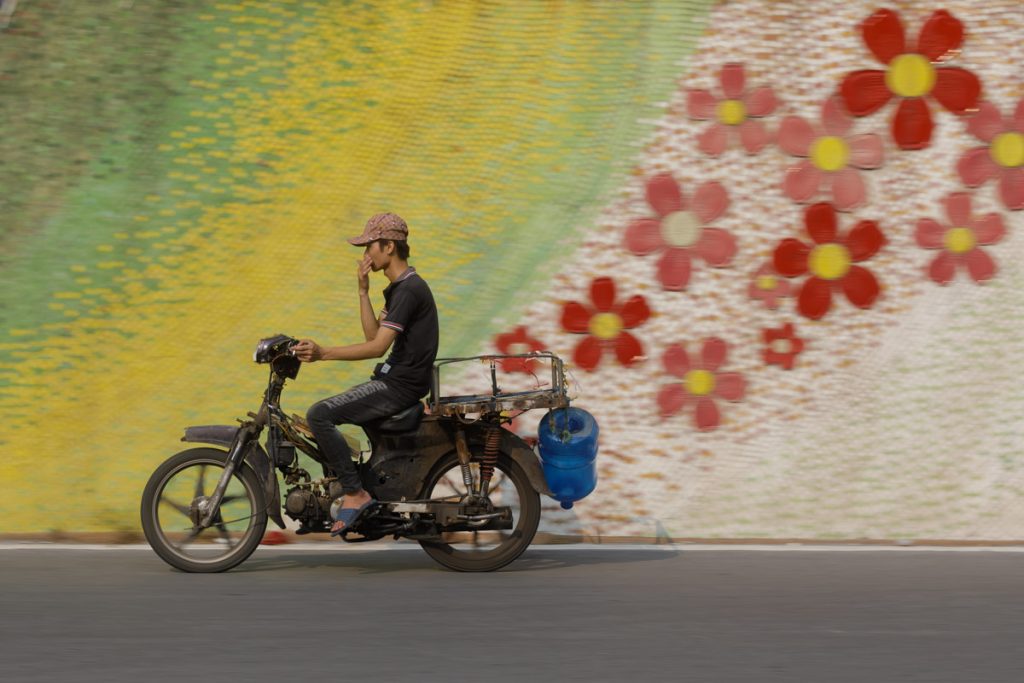 Outside of spending time in the north I also spent time back in the idyllic city of Hoi An in central Vietnam. It's here that I spent the most time in 2019 after an unfortunate incident involving my laptop and a supposed recall of the battery within it.
Something that I do when I'm out and about is I'm always looking for interesting people to add to my images. And as always Hoi An comes up trumps in that regard.
When I first arrived back a friend of mine introduced me to her friend. A young lady that worked in one of the many coffee shops but apparently loved having her photo taken.
I looked at her and saw that she had that long flowing dark hair that had the potential to make the image I had in my head. A cliché I know but sometimes that's what we work to.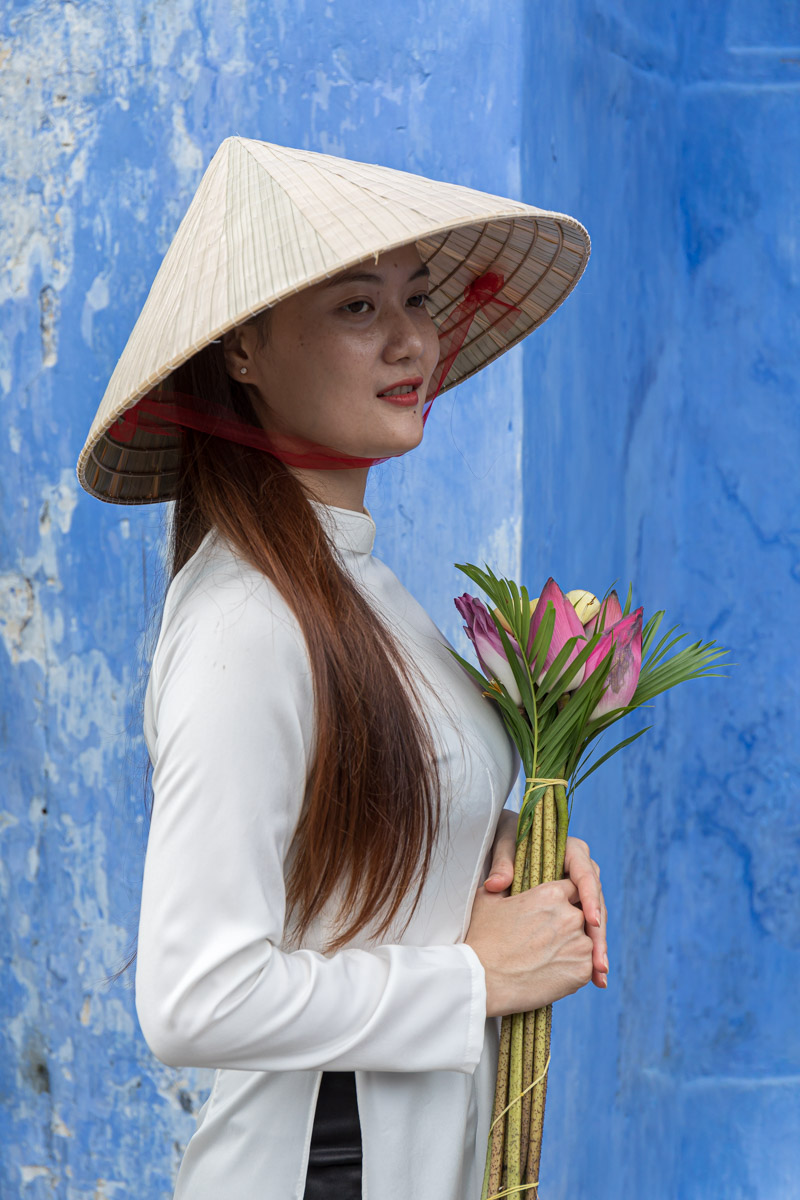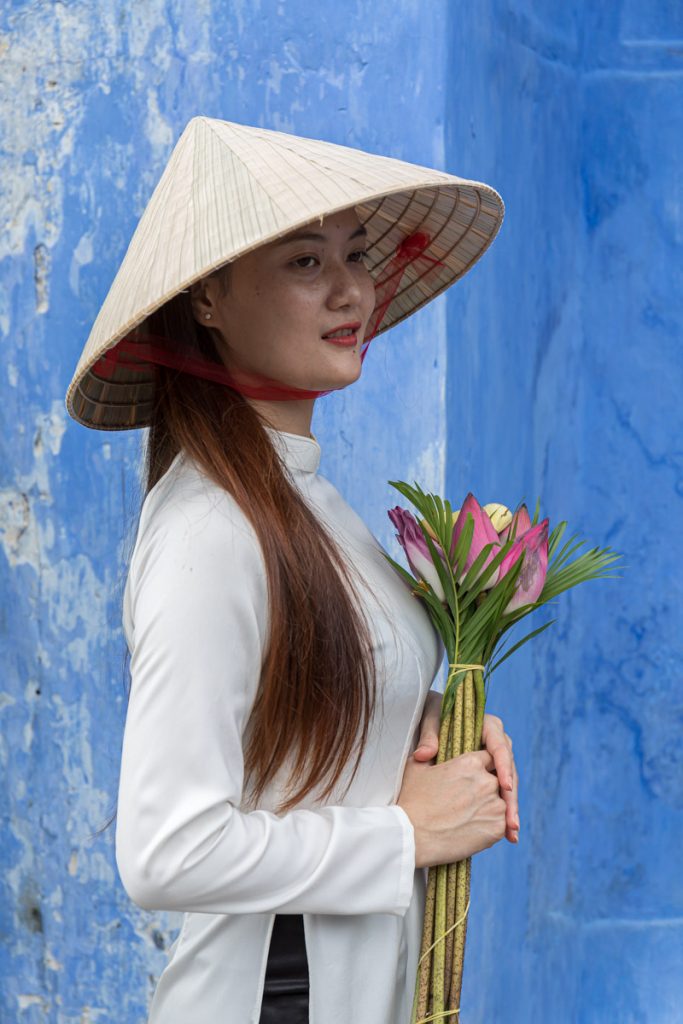 The second would-be model came during an afternoon chat with my friend Thao who owns the now sadly closed FaiFoo restaurant in the old town. I noticed a lady working in a shop opposite. I looked at her and thought that she would be absolutely perfect to take out around the old town and do some portraiture.
She was initially very reluctant to be photographed. Still, the next day we struck up a conversation and by the afternoon she was strutting her stuff in the traditional Ao Dai dress with some lotus flowers.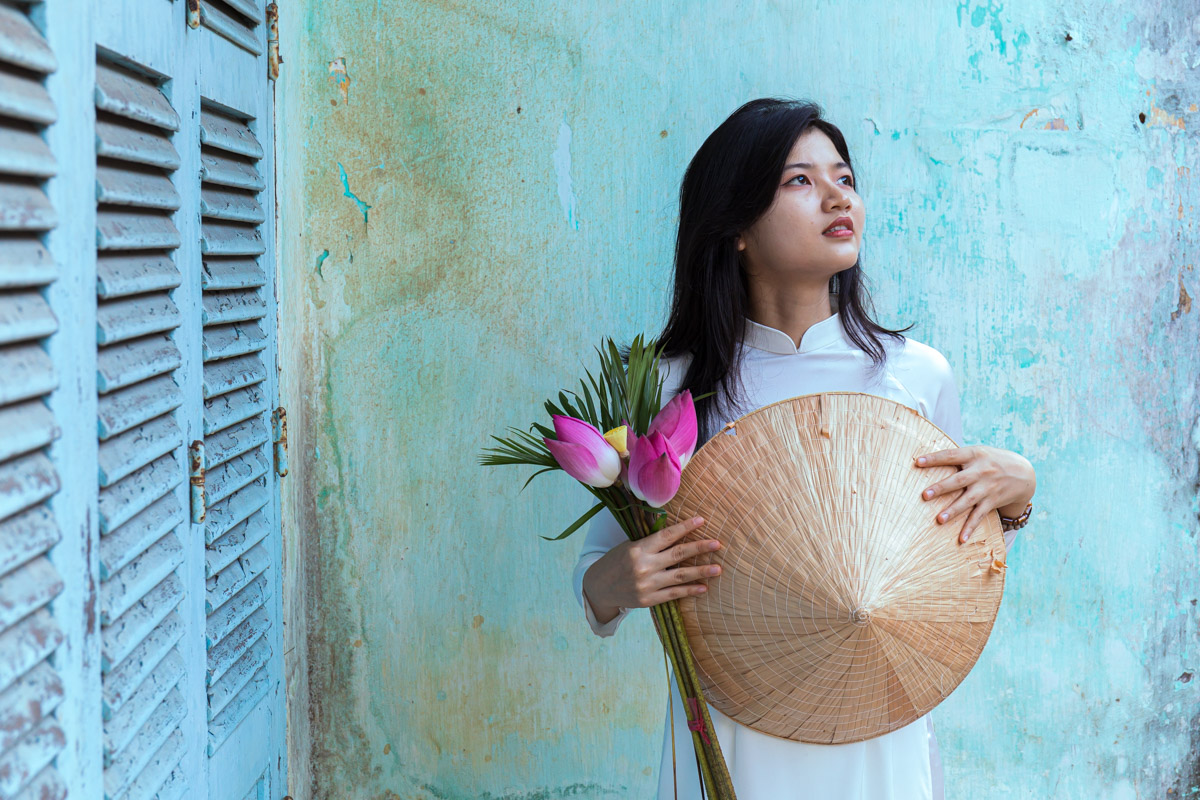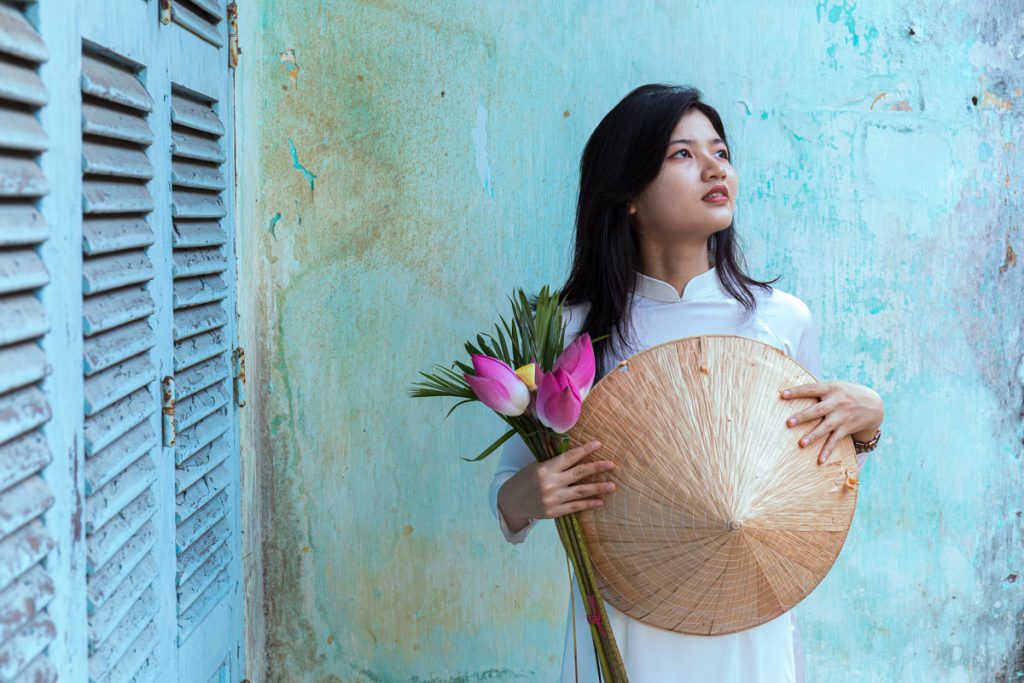 One thing that she did which helped me a lot wasn't just the fact she was willing to model but she took the time and care to make sure everything was just right. Even down to when we were buying the lotus flowers. She stood outside the flower shop adjusting them and asking for better flowers and foliage.
It's safe to say that I came back with a favourite image from my shoot with her.
---
Traveling in 2022
At the end of 2022, travel has well and truly opened up again. Here in Europe and the UK things are far better than they were this time last year with everywhere open for business. It's only a few countries that are holding out on restrictions such as China.
The travel challenges that were faced in some countries have all but disappeared. Japan was holding out but has now fully opened again to tourists which is a welcome relief to those of us who like this stunning country.
Probably the one frustration left is the aftermath of the airports that aren't yet fully staffed again. You just need to allow some extra time for checking in and you'll be fine. I have to say though I've noticed this more in Europe than in Asia where getting through the airports was extremely simple.
For any overseas tour that I run I make sure that my clients are fully up to speed with what is required of them. Specific countries' government websites are checked frequently to ensure you know what you need.
So what do you need before getting out there and going back into the wild blue yonder?
COVID pass
A number of countries have issued these to prove that you've been vaccinated. Some people have an issue with them but personally, I don't. If it facilitates travel being easier getting from one country to another then so be it.
However, what I would say is that it's also best to keep a copy of your vaccinations in paper form. Each country has its own form of the COVID pass and, as experienced back in October 2021, apps can go out of date on a particular person's phone. Technology is wonderful until it fails so it's best to be prepared.
COVID Tests
Lateral flow; PCR; PC-LAMP tests and whatever else that they throw at us. Depending on the country will depend on what you need to enter or return home. Be sure to check what it is you need in order to facilitate your travel. And also make sure of the timeframes between getting the results and being allowed to travel. Some countries ask for a test result 72 hours beforehand and some ask for one 96 hours before travelling. At its most extreme though you may have to provide evidence of one taken 24 hours beforehand.
Insurance
Initially, there seemed to be a slow response from insurance companies on how to deal with travellers who get caught up in things. If a border suddenly closed then you were pretty much left to your own devices. But this has now changed and insurance companies are offering specific policies that will cover you should something untoward happen in terms of a pandemic. And note that I said "pandemic" rather than COVID.
Recently, I renewed my own travel insurance. The specific wording that covers me in the event that something should happen is "pandemic" rather than COVID.
Before travelling to ANY country see if they specifically require insurance that will cover you. Some countries such as Chile are asking for this before you travel. There is also a specific amount that you need to be covered for too so make sure you're covered!
Masks
From the arrival at the airport to the arrival at your destination then be prepared to wear a mask. This isn't always the case though as some airports and airlines are now not requiring you to wear masks. They are now only advising that you should wear one during the duration of your travel.
Some airlines are however demanding it and some countries such as Germany require that you were a specific type of mask. Make sure you check the requirements before getting on the plane.
Depending on the length of your flight and also the airline you may get yours swapped out. When I travelled to Uzbekistan back in August 2021 I used Aeroflot for both flights. Each flight was 4 hours long and after 2 hours the staff came along and gave us new masks.
Country-Specific Tracking Apps
Certain countries are asking that as part of entry onto their territory that you download their tracking app. Again, make sure you are aware of any apps that need to be installed on your phone before travelling.
Conclusion
So, things aren't quite back to pre-COVID time and yes it is a bit of a game which is maybe too much stress for some. But if you take a step back and work things through then you'll find that in reality, it's pretty simple.
What you normally find is that getting your country-specific vaccination QR code is the hardest part. Everything else is relatively simple in comparison.
I suspect that these restrictions are likely to be with us for a while so better get used to them now rather than later.
---
2022/ 2023/ 2024 Photography Workshops and Tours
I mainly take small groups on my workshops to a maximum of 5 people. If I'm working with another photographer then it's a maximum group size of 10 people. The best way of securing a place is to get in touch with me to register your interest.
Dolomites 15 – 22 October 2022
---
1-2-1 Workshops
In addition to group tours I also run 1-2-1 workshops. These are centred around the Loire Valley area where I live but if you prefer to have your lesson in your local area then this too can be arranged at extra cost.
During the spring and summer months 1-2-1 workshops run from midday to dusk. Alternatively you can request a dawn start. I do this because daylight hours in central France can be very long during the summer. In both cases you'll receive around 10 hours of tuition. We spend most of our time in the field to maximize any and all photographic opportunities. I can also review and critique some of your current work if you wish. In order to reduce the cost per person I can also arrange one day workshops for up to three people. For further information and available dates please email me.
One to one photography workshops in the Loire Valley and Beyond
Prices:
1-2-1 350€ (includes lunch)
---
Next Newsletter