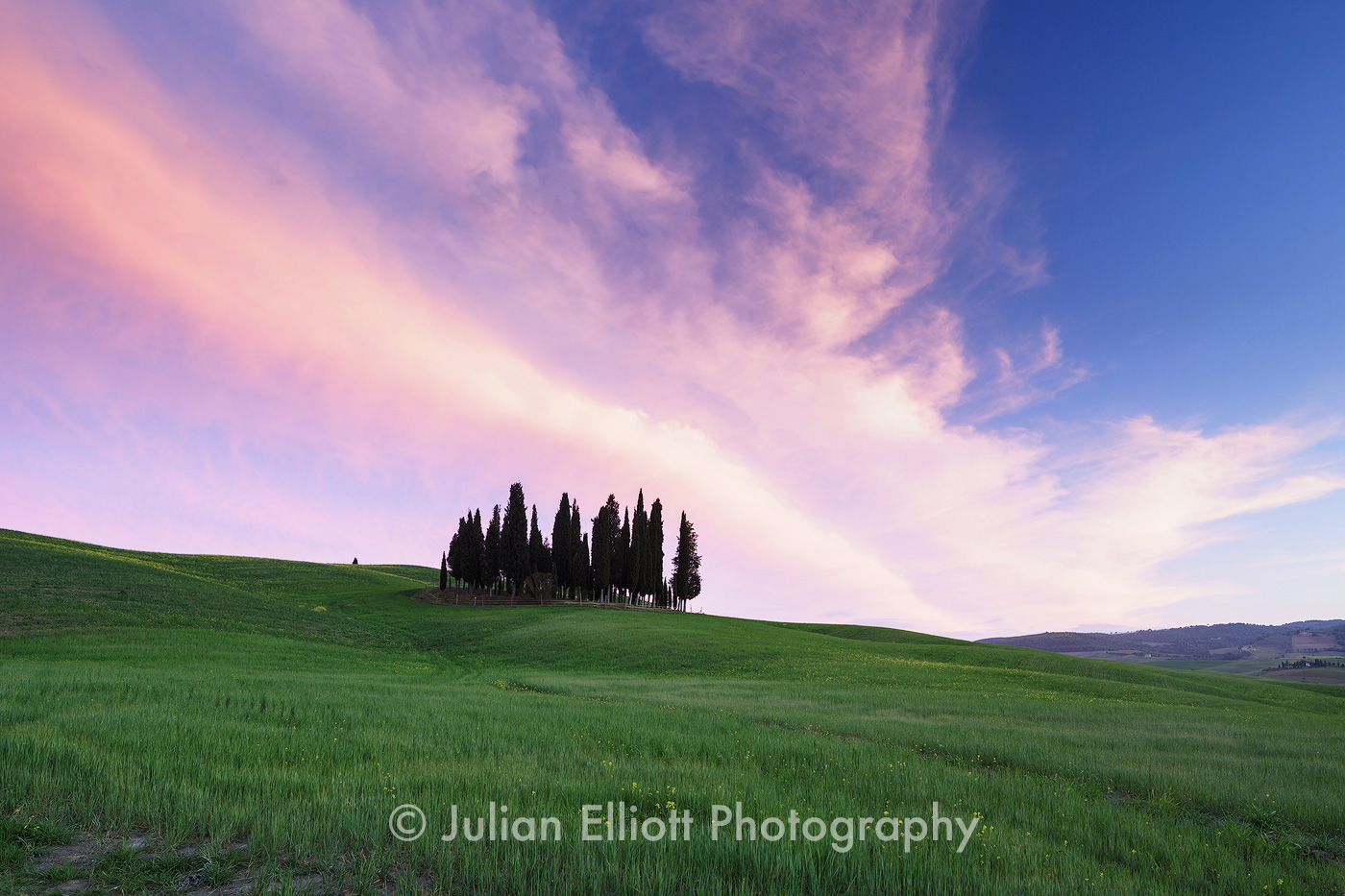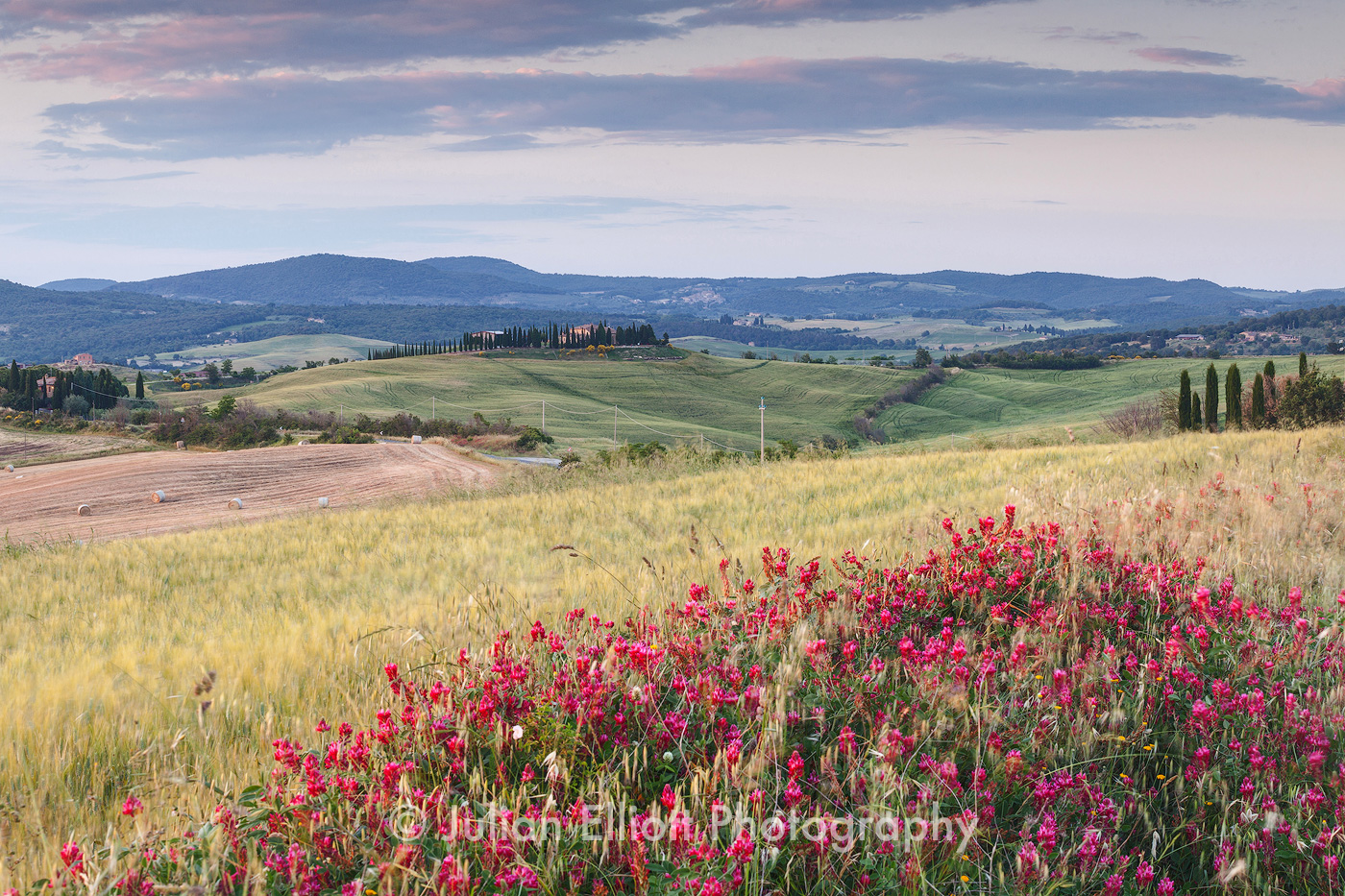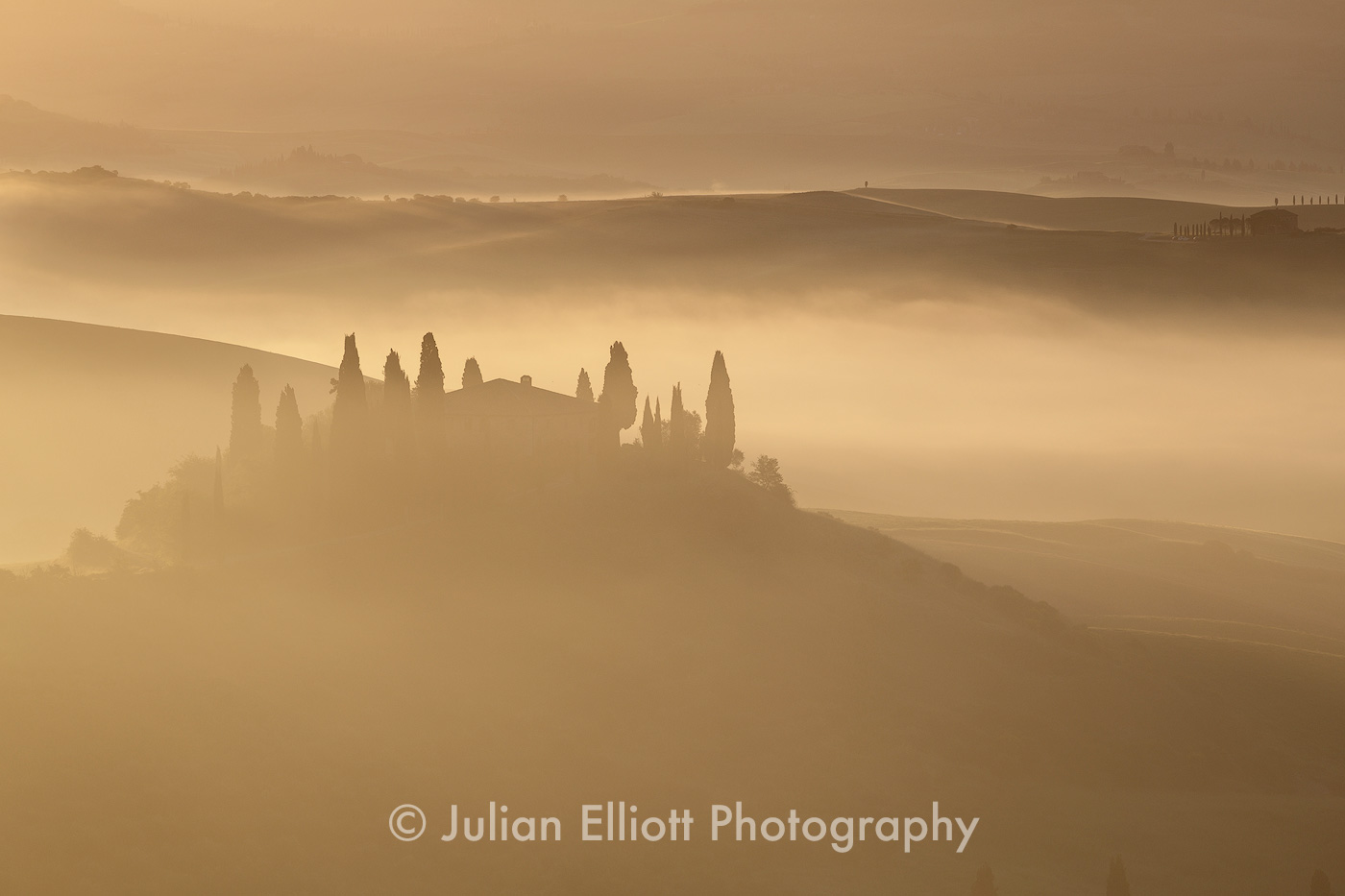 Tuscany Photography Tour | 11 - 18 May 2024
A seven day photography tour of the incredible landscape of Tuscany, with fabulous farmhouse accommodation
Join me for a fabulous photography tour of Tuscany and the Val d'Orcia in the burst of spring of May 2024. The photography tour is centred near Pienza in the very heart of the Tuscan landscape, in a farmhouse overlooking Pienza which we will use as our base to photograph the impossible undulating landscape. The very thought of Tuscany creates images of rolling hills, misty mornings and roads punctuated with cypress trees and these will be a feature of many of our Tuscany landscapes.
During May, this UNESCO World Heritage Site bursts into colour with wildflowers filling the countryside and we will endeavour to make the very best of the morning and evening light. I will take you to some of the very best photography locations and also lead you to explore lesser-known spots, so you can capture a wide array of classic imagery, from breathtaking landscapes to lifestyle, close-up and even flower photography.
Our stay is based in an agriturismo farmhouse, which is itself in the heart of the Val d'Orcia. Our hosts provide us with a superb breakfast in the morning.
Highlights of our photography tour, other than the endless rolling countryside, will be the hilltop towns of Montepulciano, Pienza and San Quirico d'Orcia as well as other smaller off the tourist trail gems.
A Typical Photo Tour Itinerary of Tuscany in spring
During May the average time of sunrise is 0550am whilst sunset is around 820pm. During our photo tour, we will be out to catch the sunrise before heading back to the hotel to eat breakfast.
Ideally, we need to be at our chosen sunrise location around 0515am so be aware that an early start is needed. Of course, you are under no obligation to wake up early and can choose to stay at the accommodation until we return from the sunrise shoot.
Breakfast is going to be around 830am as by this time the light on the landscape has become harsh.
After breakfast, we'll take a break and meet up again around 11 - 1130am when we'll head to one of the beautiful medieval villages that form part of the area.
In the early afternoon if time permits we'll have a short break before heading out for the late afternoon light heading into the sunset hours.
Photography techniques covered during the workshop
Out in the field
Exposure and understanding of how to get the best out of the light
Composition techniques to create balanced images
Lens choice and focal length. Typically people head for the wide-angle in a landscape but up in the mountains telephoto lenses are also heavily used.
Panoramic photography. How to best compose the beautiful panoramas that we'll see during the photography tour
Processing
Using Adobe Lightroom or Camera Raw to process our images
Using luminosity masks in Adobe Photoshop
Colour correction
Stitching panoramic images
Additional information
What flights do recommend?
It's nice and easy with plenty of time to get to the airport and have that all-important day of rest before work on Sunday.
The recommended flight will be based on London Heathrow to Pisa - TBA. I can also arrange to pick you up from Florence airport as we will be passing by on our way to the Val d'Orcia.
There are several operators at various times but the recommended flight is the one where you will be met at the airport for transfer to our accommodation.
Where do I meet you?
We will all meet at the arrivals lounge in Pisa Airport (exact time to be announced). If you are not on the recommended flight, then ensure you arrive slightly before.
Is it hot in Tuscany?
It's not particularly hot in May, it is similar to an English spring with periods of warmth, but be prepared for some colder starts and changeable weather as the Val d'Orcia in Tuscany is higher in altitude than a lot of other popular Italian destinations.
What clothing should I bring?
Dress in comfortable loose clothing like t-shirts, and loose shirts with a collar or base layers as these will work very well at keeping you cool. Also, bring walking trousers or similar comfortable long trousers wear. Bring a waterproof jacket too in case there should be some rain. Don't forget a floppy sun hat of some sort. Sunglasses are an absolute essential, polarised ones will really help with creativity.
Footwear?
Walking shoes are perfect for the countryside. You will not need heavy leather walking boots, these will just make you feel more uncomfortable. As we will visit towns and villages, a pair of trainers/sneakers will help keep your feet cool and will make walking easier.
What camera kit should I bring?
A wide-angle lens (16-35), medium zoom (24-70) and a longer zoom (70-300) will be ideal to cover most compositional eventualities but don't forget the macro lens if you have one. The most used will be in the 24-70 range as a super wide-angle doesn't always translate, so make sure this focal length is covered. It's best not to weigh yourself down, so why not bring an airport-style bag for all your kit and a smaller day bag, which you can decant equipment into throughout the day.
Do I need a computer?
Although not essential, it's a great idea to bring a laptop computer with you so you can discuss imagery with me, and others in the group. It really is a great learning experience, so it's highly recommended to bring a laptop to learn and for personal entertainment.
What computer support do you give?
I make a point of tutoring digital photography to my clients, to help complete the learning process. It really helps to have a computer session when tiredness takes hold, or inclement weather persists.
How do I pay?
It's easy! Just use the Paypal buttons below to checkout. The balance will be due 8 weeks before the start of the tour/ workshop. You can always decide to pay the full amount upfront if you wish.
Price
2195€ / deposit of 200€
Date
11th - 18th May 2024
Duration
7 nights/ 8 days
Location
Tuscany, Italy
Included
All double room 4 star hotel accommodation or farmhouse with ensuite bathrooms
Breakfasts
Airport transfer from recommended flight
Transport during the tour
Tuition from Julian Elliott
Excluded
International flights
Meals not mentioned
Insurance
Accommodation
4 star accommodation in the heart of the Val d'Orcia in Tuscany
Max Group Number
5
Fitness Level
Low