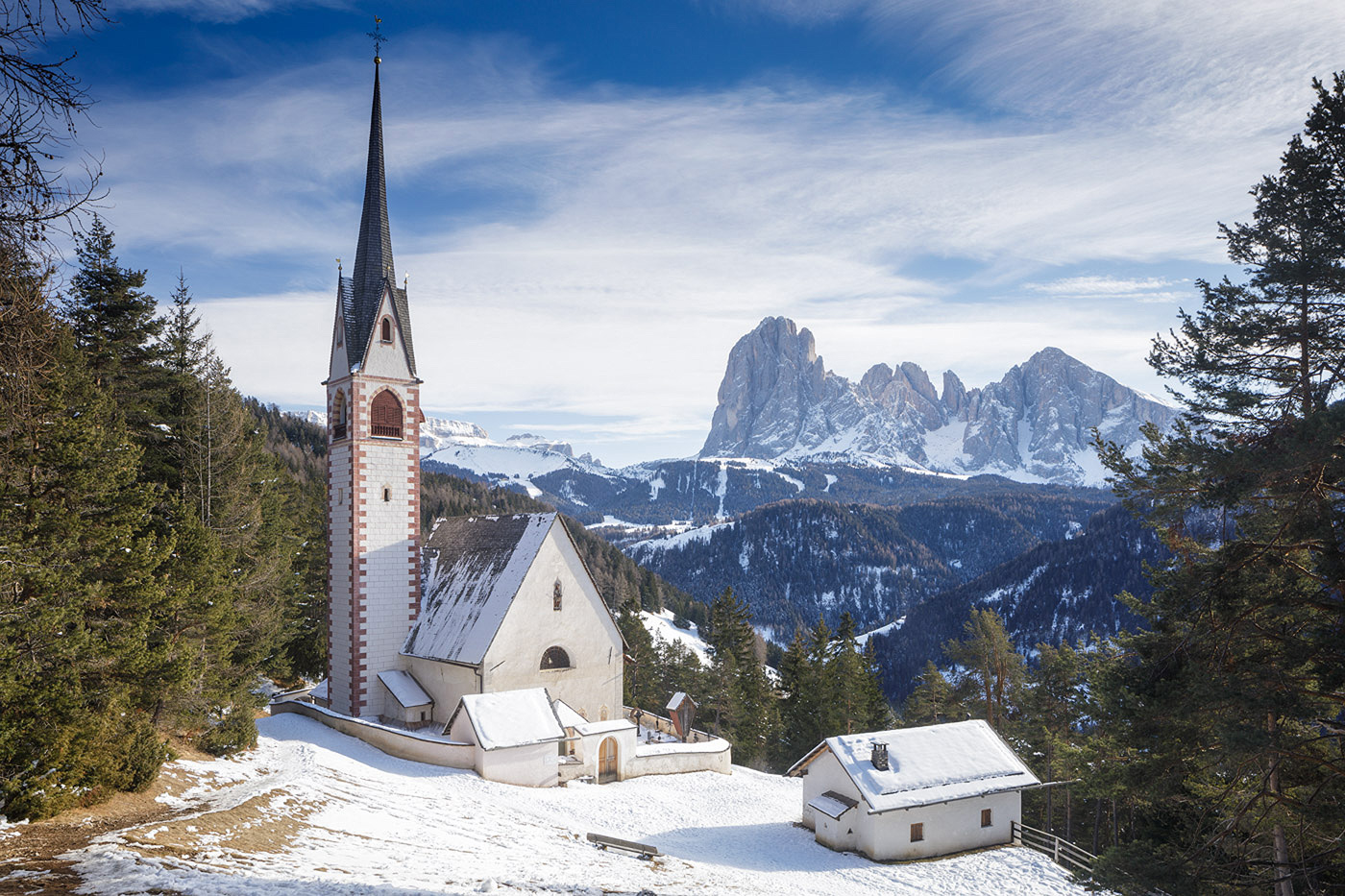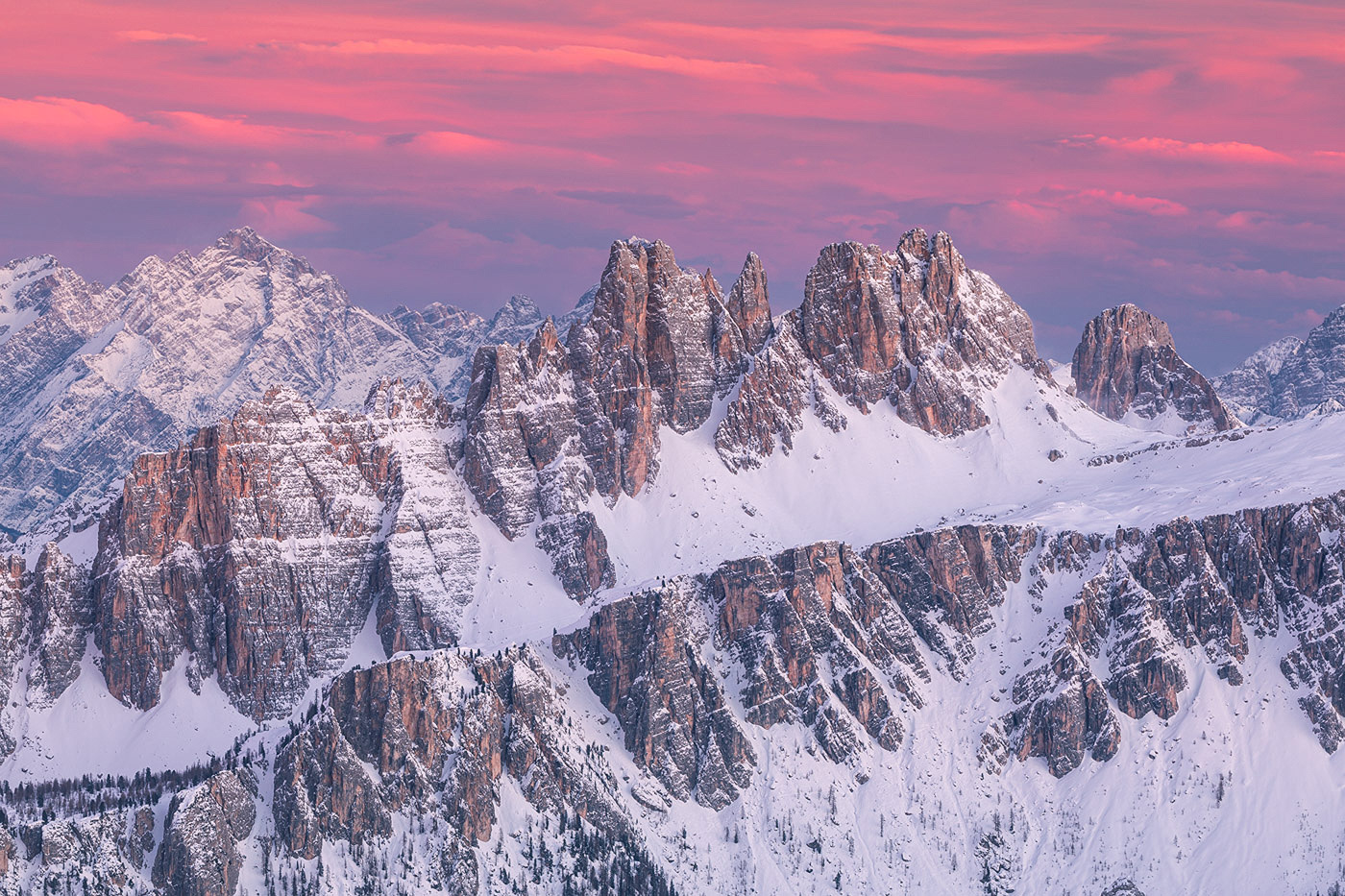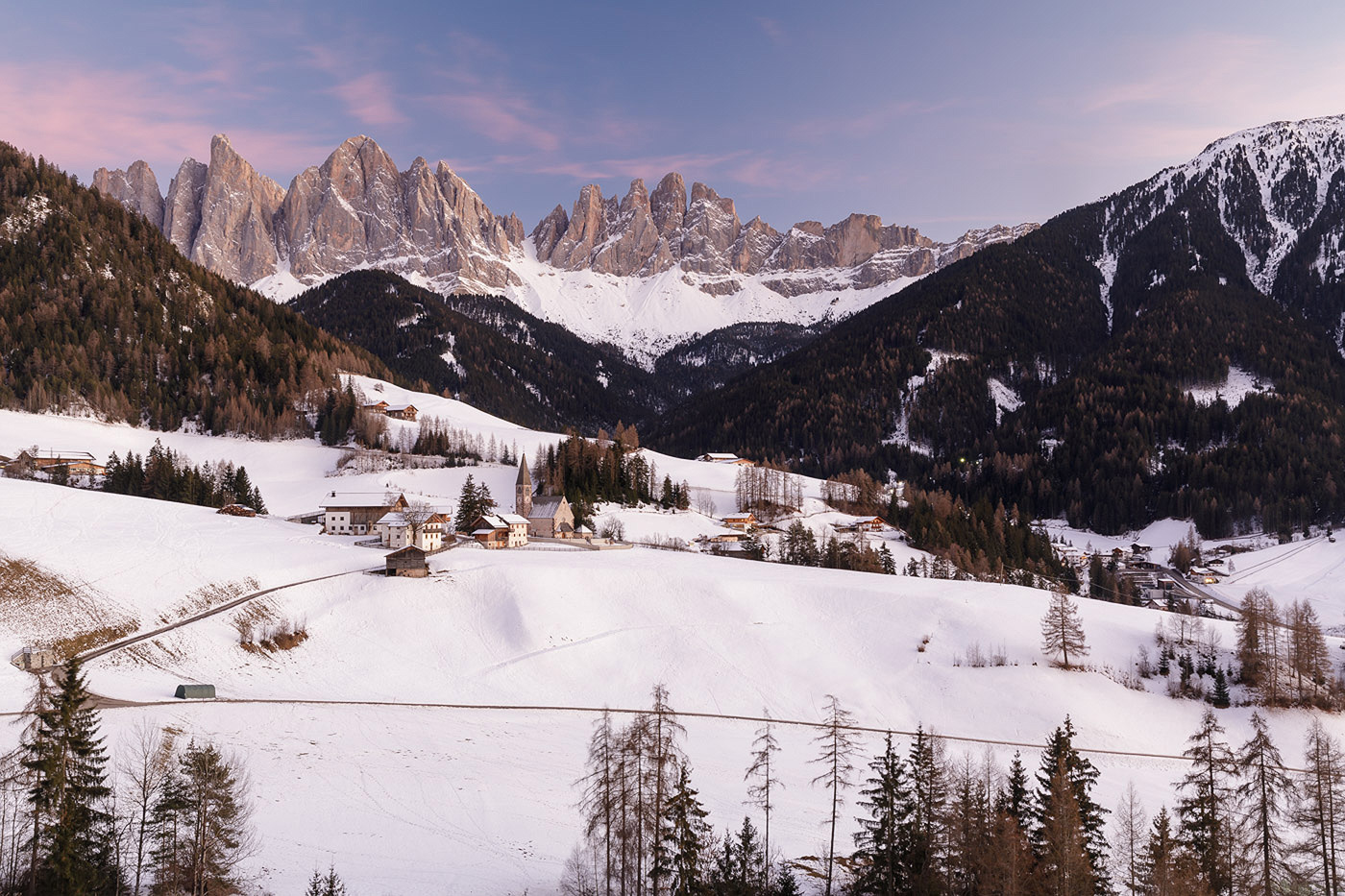 Dolomites Winter Landscape Photography Tour | 6 - 13 January 2024
A seven-day photography tour of the incredible landscape of the Dolomites.
Join me for a fabulous winter photography tour of the Dolomites in January 2024. The photography tour will be based in two separate areas so that we can maximize the photo locations of this beautiful area of northern Italy. The photo opportunities in the winter months up in the Dolomites include images of high jagged mountains, frozen lakes, and frozen forests full of snow.
During January, we will have snow-covered mountains and stunning mountain valleys all out our fingertips. We will endeavour to make the very best of the morning and evening light during the photo tour. You will be taken to some of the very best photo locations and also lead you to explore lesser-known spots, so you can photograph a wide array of classic landscape imagery, from breathtaking landscapes to stunning jagged mountains.
We will use one or two cable cars to get us up high to photograph some of the mountain vistas. These average around 20€ or 30€ for a return trip and are included in the fee. I can assure you that the views are incredible and well worth the ride up.
Our stay is based in four-star and three-star hotel accommodations. The hotels provide us with breakfast in the morning.
A Typical Photo Tour Itinerary of the Dolomites in winter
During January the average time of sunrise is 0755am whilst sunset is around 440pm. During our photo tour, we will be out to catch the sunrise before heading back to the hotel to eat breakfast.
After we've refreshed ourselves then we head back out again either into the landscape or one of the photogenic towns and villages before breaking for lunch.
In the afternoon, we'll head back out again this time concentrating on photographing the snow-covered landscapes. The day will finish with sunset then we'll head back to our base to eat dinner in the evening.
Photography techniques covered during the workshop
Out in the field
Exposure and understanding of how to get the best out of the light
Composition techniques to create balanced images
Lens choice and focal length. Typically people head for the wide-angle in a landscape but up in the mountains telephoto lenses are also heavily used.
Panoramic photography. How to best compose the beautiful panoramas that we'll see during the photography tour
Processing
Using Adobe Lightroom or Camera Raw to process our images
Using luminosity masks in Adobe Photoshop
Colour correction
Stitching panoramic images
Additional information
What flights do recommend?
Venice Marco Polo is served by a multitude of international flight operators from budget airlines to commercial airlines such as British Airways and Air France. My own flight arrives around 12-1PM and if you would like to join the photography tour and need a recommendation on a flight then please do get in touch.
Where do I meet you?
We will all meet at the arrivals lounge at Venice Marco Polo on 6th January 2024. Please ensure that you arrive in good time and have eaten lunch as we will be headed straight off to our first hotel. Aim to arrive by 1 - 2PM as my own flight will be around this time.
How about getting back to the airport?
The last day of the photo tour typically includes a dawn shoot and breakfast on Saturday before we head back to Venice Marco Polo airport.
Footwear?
Walking shoes are perfect for the countryside. Do be aware that during those misty mornings that the grass will be full of dew and it would be wise to have boots that are waterproof to keep your feet dry. As we will visit towns and villages, a pair of trainers/ sneakers will help keep your feet cool and will make walking easier.
What camera kit should I bring?
A wide-angle lens (16-35mm), medium zoom (24-70mm) and a longer zoom (100-400mm) will be ideal to cover most compositional eventualities but don't forget the macro lens if you have one. The most used will be in the 24-70mm range as a super wide-angle doesn't always translate, so make sure this focal length is covered. It's best not to weigh yourself down, so why not bring an airport-style bag for all your kit and a smaller day bag, which you can decant equipment into throughout the day.
Do I need a computer?
Although not essential, it's a great idea to bring a laptop computer with you so you can discuss imagery with myself and others in the group. It is a great learning experience, so it's highly recommended to bring a laptop to learn and for personal entertainment.
What computer support do you give?
I try to make a point of tutoring digital photography to all my clients, to help complete the learning process. It helps to have a computer session when tiredness takes hold, or inclement weather persists.
How do I pay?
It's easy! Just use the Paypal buttons below to checkout. The balance will be due 4 weeks before the start of the tour/ workshop. You can always decide to pay the full amount upfront too if you wish.
Price
2895€ / deposit of 250€
Date
6th - 13th January 2024
Duration
7 nights
Location
Cortina d'Ampezzo/ Ortisei
Included
Photo tuition from Julian Elliott
Double room accommodation with ensuite bathrooms in Cortina
Double room accommodation with ensuite bathrooms in Ortisei
Breakfasts
Transport during the tour
Excluded
Meals not mentioned
Insurance
Flights to Venice Marco Polo
Max Group Number
5
Fitness Level
Low to Medium